The leading event in the sector is back, in Düsseldorf from 19 to 26 October 2022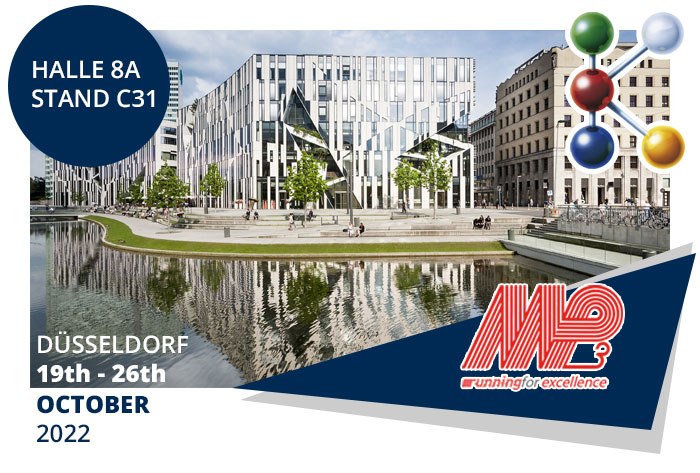 MP3 will be present from 19 to 26 October at K2022 in Düsseldorf, the new edition of the largest fair European Union dedicated to the world of plastics and rubber. Once again it will be an opportunity to follow the latest developments in the plastics industry in a showcase of excellence.
MP3 awaits you inside hall 8A, stand C31 , where it will showcase its most innovative technologies in the sector of sheets and coils for the thermoforming industry.
Many news that we will present at this edition. The first is dedicated to the healthcare sector , with the new stone effect slabs extremely current and increasingly requested by companies.
As for roll production, the latest MP3 innovation is the arrival of the new production line of PP / EVOH multilayer sheets, designed to respond to the growing demand for materials with complex structures.
To complete the series of innovations with which we will be in Düsseldorf, the circular economy model of ILPA Group's rPET could not be missing. This theme has been at the center of the development of the group's production policies in recent years, with the development of a closed cycle capable of dealing with rPET at every stage, from extrusion to the realization of finished products, up to post-consumer recycling. And today it is particularly significant to bring this experience into K2022 , which sees the circular economy as one of the key themes of this edition.
K remains the world leader fair in the plastics and rubber industry, an event dedicated to pioneering innovations, developments, creative impulses, new perspectives and solutions. Exhibitors from all over the world will be in Düsseldorf to represent the excellence of the sector and to chart the course for the future. The guiding themes of the 2022 edition will be precisely environmental sustainability, the circular economy and digitalization.
Come and visit us to experience first-hand the innovations and quality of MP3 products. Contact us to make an appointment or come directly to discover our space.
We look forward to seeing you every day of the fair in hall 8A, stand C31.