Focus on the company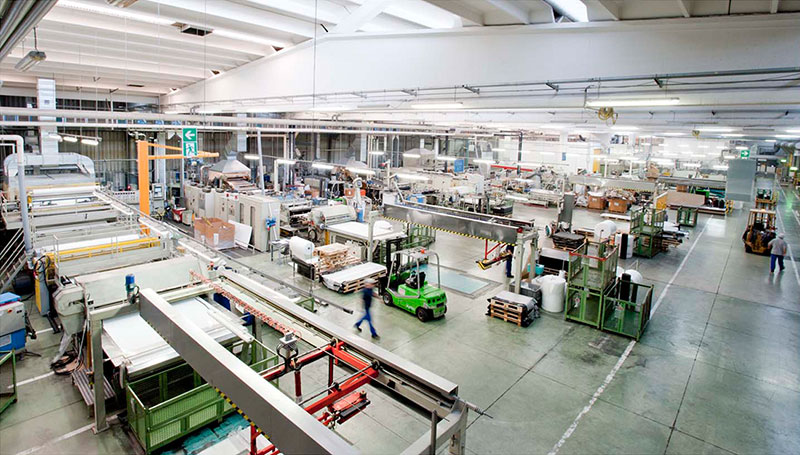 Production is the heart of MP3, the area where the commitment of the entire company is concentrated on always creating the best plastic sheets and reels for thermoforming.
This is why some of the Group's most important investments occur here. Investments in 2022 allowed us to reach a production capacity of over 30,000 Tons of sheets and over 50,000 Tons of reels, thanks to our 14 extrusion lines. But these results are also and above all thanks to the people who represent the face of this company department, 160 production workers active within our 45,000 square meter factory, on a production area of 80,000 square meters overall.
The commitment to continuous improvement and constant training of the operators have allowed MP3 to obtain a very high capacity in maintaining an excellent quality of the materials produced, as verified through frequent checks and, above all, through measuring the satisfaction of our customers.
Further production improvement activities have also been implemented over the last year, above all through ever faster and more efficient data collection and analysis and even more rigorous control of incoming raw materials. A particular focus was placed on product lines suitable for food contact.
The relationship with the market
The relationship between MP3 production and the market is highly dynamic and reflected in orders and projects requiring innovative and customized solutions.
An example of this is the important work done in recent years on PET and rPET products, increasingly sought after and strategic in a context that emphasizes recycled materials and sustainability.
One of the most interesting innovations in finishes and design is represented by the new range of satin matt ABS/PMMA sheets developed by MP3 R&D and Production. In addition to having aesthetic characteristics in great demand, the sheets are designed to have a satin effect that is very pleasant to the touch, ideal for creations where the perception of quality and comfort is essential.
At the same time, another strongly evolving sector is sanitary ware, where we have been present for dozens of years (bathtubs and shower trays). The market demand is increasingly for slabs in line with the EN 13559 standard. In 2019, our R&D department started developing these slabs, now a standard in our production.