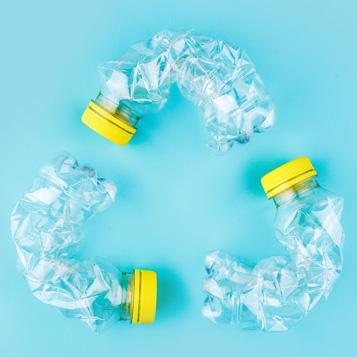 The "beverage" giants play a major role on the PET market and they are currently moving to stock up on post-consumer recycled material.
As a matter of fact the EU Directive 2019/904, known as the SUP directive, requires at least 25% of rPET to be used in bottle production by 2025, and at least 30% to be used by 2030.
This is radically impacting the PET market, as the interests of bottle producers and multinationals is moving accordingly: these movements are deeply changing the structure of the European market, the prices and the availability of recycled materials.
MP3 IS EQUIPPED TO HANDLE CHANGE!
MP3 and ILPA group have been working in the circular economy for over a decade.
Up to 30,000 tons of bottles can be transformed into recycled PET flakes by our plants each year.
We produce rPET flakes suitable for food contact according to the 282 standard, thanks to our plants being properly approved by EFSA since 2014
Since March of this year, we have chaired the PET Sheet Europe Association, the European body that protects and promotes the interests of PET sheet converters towards international institutions. It also hosts different working groups on specific technical topics, such as supporting and researching functional barrier issues, among many others.
MP3's equipe displays high levels of competence and know-how, thanks also to the wide availability of internal laboratory instrumentation for specific tests, including food suitability.
Our products are BRC certified with AA rating
MP3's team features PET products specialists
Contact our sales department for your requests and get to know the MP3 reality!