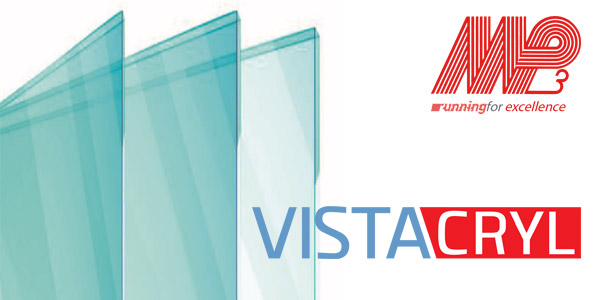 VISTACRYL is the new range of transparent PMMA sheets for flat or thermoforming processing with great technical characteristics and excellent performance, the result of MP3 research and development.
VISTACRYL MX acrylic sheets are an excellent substitute for glass, with high optical properties , ideal for example for the production of protective screens against COVID-19.
The high-impact version VISTACRYL PX expresses characteristics of flexibility and impact resistance considerably greater than standard acrylic sheets or glass sheets of the same thickness. For example, these plates are suitable for signage, displays and anti-COVID-19 protective screens with special designs.
The use of the latest generation extrusion lines allows the production of sheets that are always aesthetically perfect, in transparency, in size and in squares, thanks also to innovative cutting systems.
While the use of the best virgin raw materials and the high quality of the production process allow excellent processability in all phases of cutting and processing of the PMMA sheets, also thanks to the application of the special transparent and anonymous protective film on both sides.
In the design, creation and launch of VISTACRYL the following were put at the center:
Uncompromising quality
Investments in the best latest generation technology
An impeccable service reserved for our customers
The range includes in stock the main dimensions required by the market, while the thicknesses range from from 2 mm to 6 mm (which will become 10 mm starting from September 2020). On request it is possible to create slabs with customized dimensions .
Finally, great care is also given in particular to packaging , for safe transport anywhere in the world and by any means.
For further information on dimensional standards: #VISTACRYL